A provider of arts  education and performance for all ages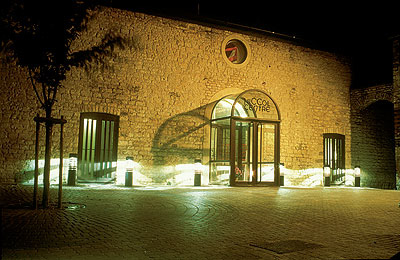 Built in 1820 as a brewery, the premises continued to brew beer until 1937. After a period of use by a sheet-metal company the buildings were bought by Cotswold District Council for demolition. A local group, however, proposed repair and conversion into craft workshops instead and Cirencester 
Workshops opened in 1979.
Subsequently, following a bequest, the former barrel store was converted in 1984 into educational studios surrounding a theatre (the Niccol Centre), an award winning redesign that was featured in Architects Journal on 19 June 1985. Brewery Arts was formed in 1989 from the merger of Cirencester 
Workshops and the Niccol Centre.
Yates Associates were invited by architects MacCormac Jamieson Pritchard now MJP Architects, under the direction of Jonathon Freegard, project architect we provided a fully integrated detailed design for all services in The Niccol Centre. One feature was the external lighting bollards, which 
also acted as incoming ventilation ducts to the main space.
Originally providing Third Age arts activities the centre has evolved into a provider of arts educationand performance for all ages. Following extensive redesign and refurbishment the renamed New Brewery Arts with galleries, shop, workshops and café opened in February 2008.