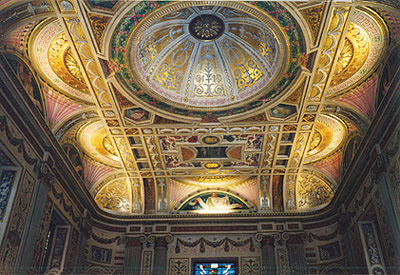 Re-lighting of the Chapel 
The Chapel at Worcester College formed part of James Wyatt's commission for the east range of buildings in the 1780's.  In the 1860's William Burgess was appointed to redecorate the Chapel. Due to its deterioration, it was decided to undertake a clean and conservation project and we were invited to re-light the Chapel.
The existing lighting was located on a main cornice with supplementary columns of lights mounted on the pews.The former was to be replaced because it produced balloonsof light and shade and the latter was to remain, being the principal reading light in the Chapel.
The Architects wanted to remove a baffle board from the front of the main ceiling cornice which caused us to look for a very slim lighting housing – not to be viewed from floor level.
Following extensive mock-ups, a linear housing measuring 1175mmlong x 46mm wide x 54mm high was employed  which contained the fluorescent T5 lamp source.
The luminaires were located on the main cornice below each of the lunettes with smaller linier versions in each corner of the Chapel.
The inner part of the ceiling and the dome itself gained light from the column pew lamps and, therefore, was almost shadow free.
Each façade had individual dimmer control.