An extremely colourful chapel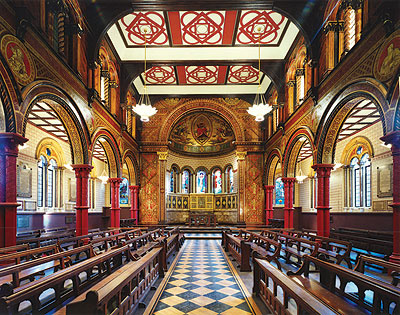 1831

- 
Originally built by Robert Smirke. 
1859
- The Chaplain engaged George Gilbert Scott to re-model the building which was completed in 1864. 
1909
- Electric lighting was first installed in the building using a set of electrollers. 
1931
- The construction of the Hambleton Building of Anatomy caused the loss of natural daylight through the clerestory windows. 
1948
- Following war damage the decorations were cleaned and lighting altered. 
2000
- The majority of George Gilbert Scott's scheme remains, although the varnish is darkening and beginning to obscure the designs.  A complete refurbishment is undertaken, including the introduction of new lighting fixtures with stunning control.
The existing lighting system was very inflexible, it gave inadequate light from inappropriate luminaires. The architect tabled a preferred concept design for the pendants from which Yates Associates modelled the  technical, construction and final installation details.
 
Each pendant is essentially made from sand blasted glass petals, brass suspensions and glass jewels.  It was necessary to fulfil the brief by offering a scheme which would enhance the Chapel interior and provide the much desired flexibility control.  There are four pendants in the main Chapel space and five down each side aisle.
 
Light can be directed upwards from dimmable fluorescent lamps or downwards only from low voltage lamps.  Supplementary lighting is gained from clerestory windows where fluorescent tubes are concealed behind white blanking panels and also from the Apse via ledge mounted luminaires.  The overall ambient lighting level is approximately 260 lux.
 
Following numerous meetings with the manufacturers of the pendants and controls system/s it was decided to opt for 42watt TCT-E compact fluorescent uplight lamps and 50watt MR16 12volt low voltage lamps. Their dimensions and output impacted this decision.
 
The electronic ballasts are wired back to the dimmer rack along with the low voltage supplies which are routed via intelligent transformers.
 
There are eight scene-set positions which drastically alters the mood of the space and gives the Client flexibility for the many types of religious services.